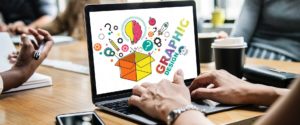 Graphic design is also known as communication design, A part from this it can be physical or virtual and can include images, words, or graphics. It can be intended for a small number of people, such as a one-off,  limited-edition book or exhibition design, or can be seen by millions, as with the interlinked digital and physical content of an international news organization. It can also be for any purpose, whether corporate, commercial, educational, medical etc.
DigiComposite provides you online and offline both graphic designing.
Online Designing –
We make designs online like Brochure, Catalog, Flyer, Social media post etc. These online designs you can post on your website as well as social media pages. It will be helpful to understand your products/services to your customer online.
Offline Designing –
We make designs offline like Visiting card, Letter head, Envelope, Brochure, Catalog, Flyer etc. We provide you also printed facility these offline designs. So you can make design and print both from one place.