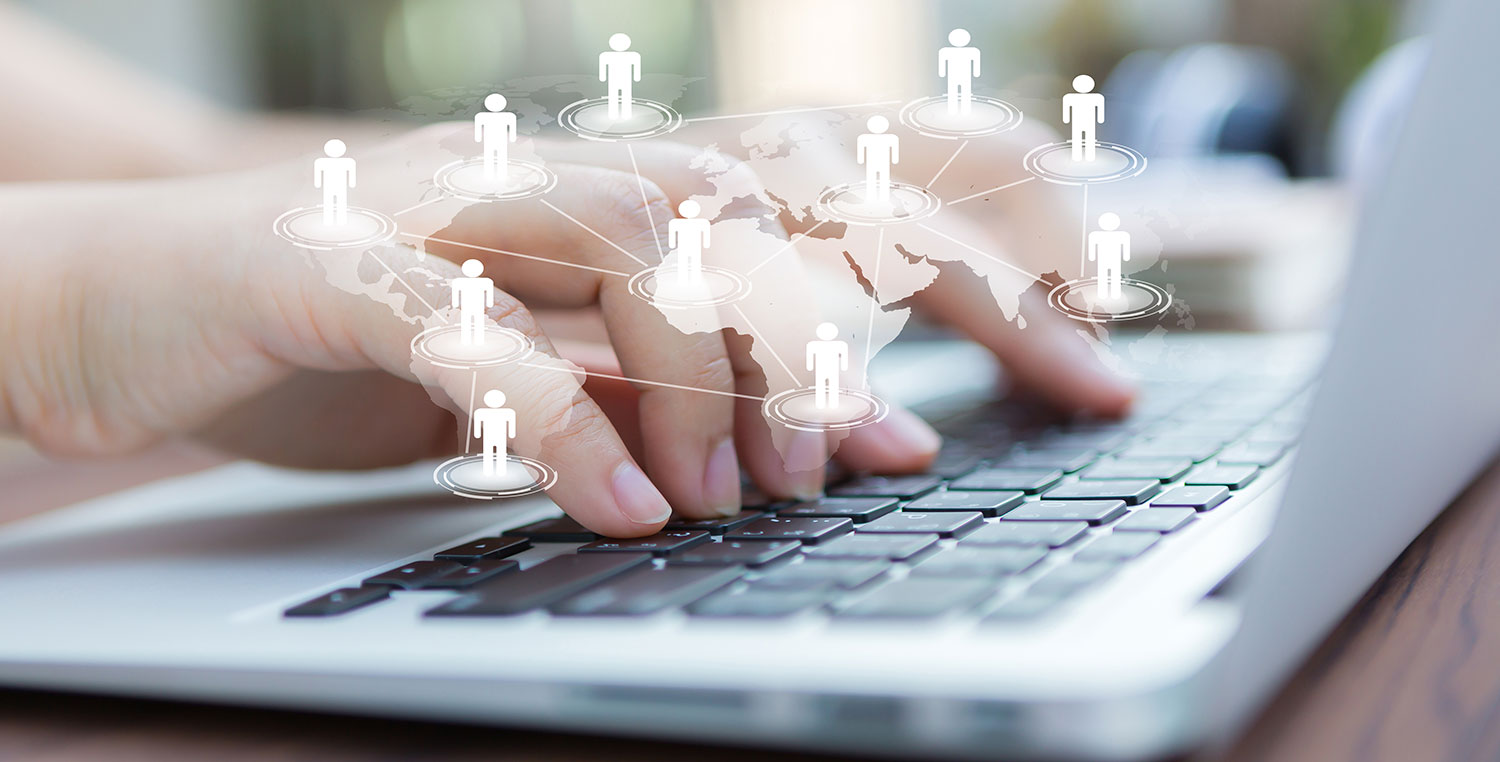 Now a days Social Media playing a very big role in all over world. There are lot of social platform where you can join with anyone. Social Media is growing tremendously from last 10-12 years. As technology are growing then lots of people are getting benefits of it. Apart from this as we can see there are Some advantage and disadvantage of Social Media.
Advantages of Social Media –
Connectivity with the people – Best advantage of Social media is that we can connect with any one in the entire world. Facebook is the most powerfull platform where we can make friend to anyone and connect with them. Twitter is also a very powerful platform where we can share our thoughts and can see anyone twits and their views. Rather than there are lot of websites and app where we can join with the world like Instagram, Youtube, Linkedin, WhatsApp etc.
Education and Information – Through Social Media we can take education. Because there are so many official pages which provides good knowledge and information that you can grab from there. Social Media helps to improve knowledge of children's free of cost. That is a very good advantage of Social Media for everyone. Rather than You can have information about new jobs where you can apply. I think if you use wisely social media then you can get very good benefits from here.
Promotion – If you have your own business then of course you have to promote it. But promotion is not easy thing. It is very costly for any business, Because if you are promoting offline like newspaper ad or pamphlet distribution, It cost you a lot and there is still no guarantee of return apart from this if you are promoting through google ads it is also costly for small business. But if you are promoting through social media it is very less expensive and you can target your audience also. Rather than you can reach thousands and millions of people to make banner ad, video ad, post etc. in a very low price. This is the best advantage of Social Media for businessman.
Awareness – We grab so many information in a day through social media some are from business related, community related, religion related, country related etc. and these information give us awareness about them. If someone is doing any good social work in their place or city, then we can aware about that. We can aware about any new brand. Awareness is a very powerful thing which we can get from Social Media.
News and Update – Many people will thinking that there are so many news channel exist then why someone needs to see news from social media, For them I would like to tell that for news channel you have to sit infront of t.v and spend some time to see but in social media you can get instant notification of news and if you think that particular news is interesting or breaking news or related to you then you can click to watch complete otherwise you can just see the headline and do your work without any interrupting. It will save your time and on the same time you can be updated by that news.
Entertainment – There are so many pages if you join or like them you can get fun and entertainment like jokes, funny vides, funny post, memes etc. Rather than you can make new friends on social media and can talk to them. Even on Social media platform you can choose your dating partner and sometimes it converts into life partner also which is very good for new generation. I think if people use it in a very good way then its a very good feature of Social media.
Disadvantages of Social Media –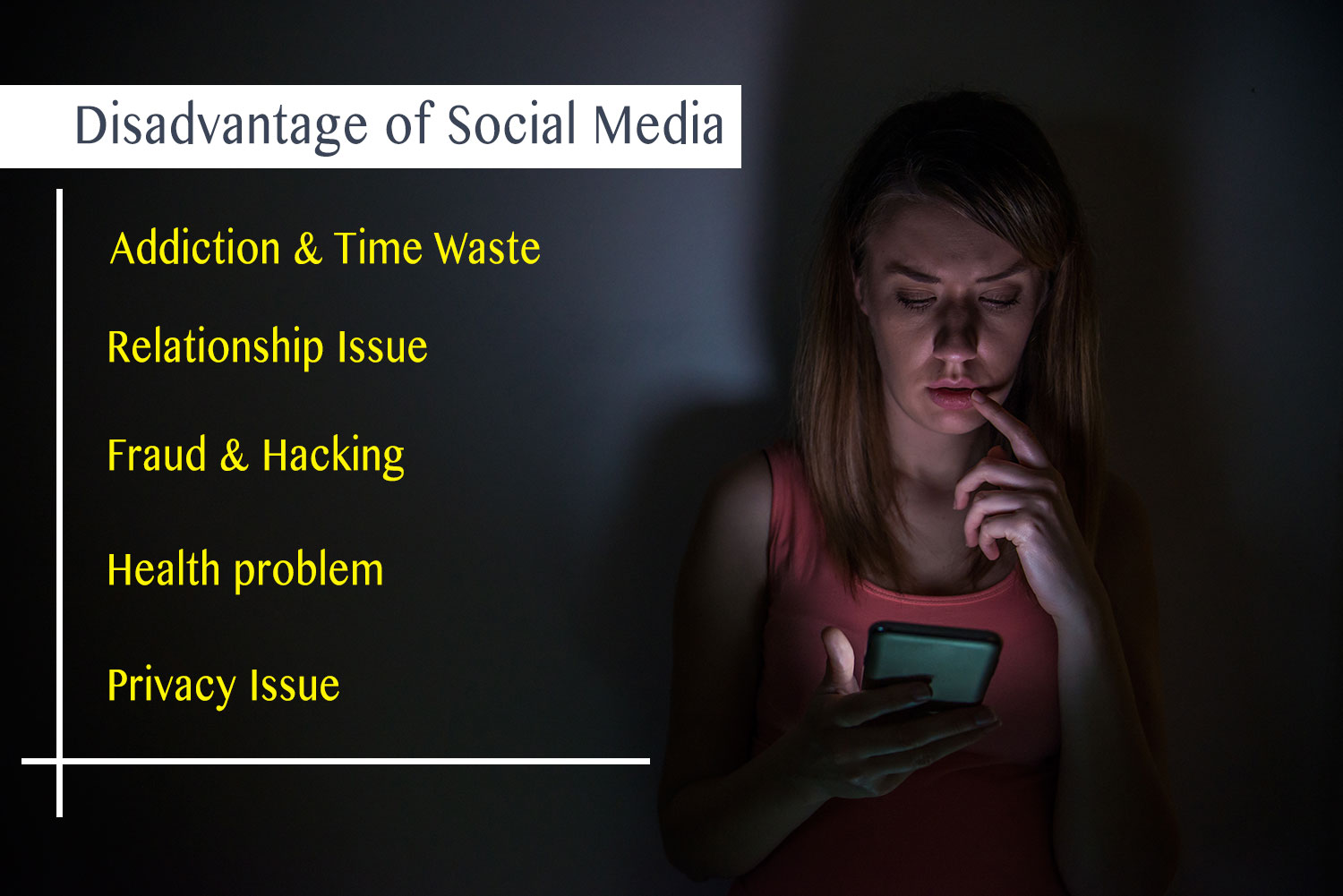 Privacy Issue – When you use Social media then you upload your photographs, videos and gives your personal details. Which can be check by anyone and maybe someone can misuse your things. It is not right and safe for you. Privacy Issue is a very big disadvantage of social media. So I think we should not give our every small information on Social Media and when we are uploading pictures and videos then we have to select very wisely our photos and videos so that nobody can misuse it.
Fraud & Hacking – Now a days some people are doing hacking of social media account and they misuse of their account which is not good for anyone. Apart from this there are some fraud who manipulate innocent people and can take money and some information from them that is very dangerous for anyone. So I suggest to everyone please don't give you personal detail and account detail on social media to anyone if it is necessary then give via phone or email but not through social media.
Addiction & Time Waste – This is a very big problem for young generation which is increasing day by day because so many of children are using social media for their fun and entertainment and forget about their study and family. By doing this young generations are wasting their time which is not right for anyone. I suggest to young generation don't use social media more than 1 hrs a day (Specially for students) and give time to your carrier and your family which will help you to grow your life.
Health problem – When some people use of social media a lot then it will effect on their health because when you work on mobile and computer whole day it will effect your eyes and brain. After some years it will give you mentally and eyes problem as well. I suggest everyone use social media in limit but don't use excess.
Relationship Issue – If we see there are some benefits of making relation on Social media than there are some disadvantage also of making relation on social media as well. Because someone can cheat you over relationship issue. There are so many examples like that some boys give fake belief of marriage with a girl and after taking advantage they leave her or many people make fake id to make relation with someone which is very dangerous for anyone life.
Now we have see advantage and disadvantage of Social media. If we use in proper way then definitely we can get more benefits from social media but as we know if we use in wrong way or without any guidance then Social media can ruin our life. So we have to use Social media wisely and for good work which we can get benefit in our life.