SEO is stand for Search Engine Optimization. SEO is a completely free technique where we make some efforts to rank a website. But this free technique takes a lot of time. To know about more SEO we have to know about the technique which we use for rank a website.
Technique:-
SEO has three types of technique.
White Hat – White hat is a completely legal way of SEO where we follow terms and condition of Google. And we don't use any wrong and shortcut way to improve website rank.
Grey Hat – Grey hat is a mixture of legal and illegal way, where we don't follow proper terms and condition. Means we use some legal and some illegal way to improve rank of a website.
Black Hat – Black hat is a completely illegal way of SEO where we don't follow terms and condition of Google. But it is not a safe way for website ranking. We could be banned if google can find our black hat technique.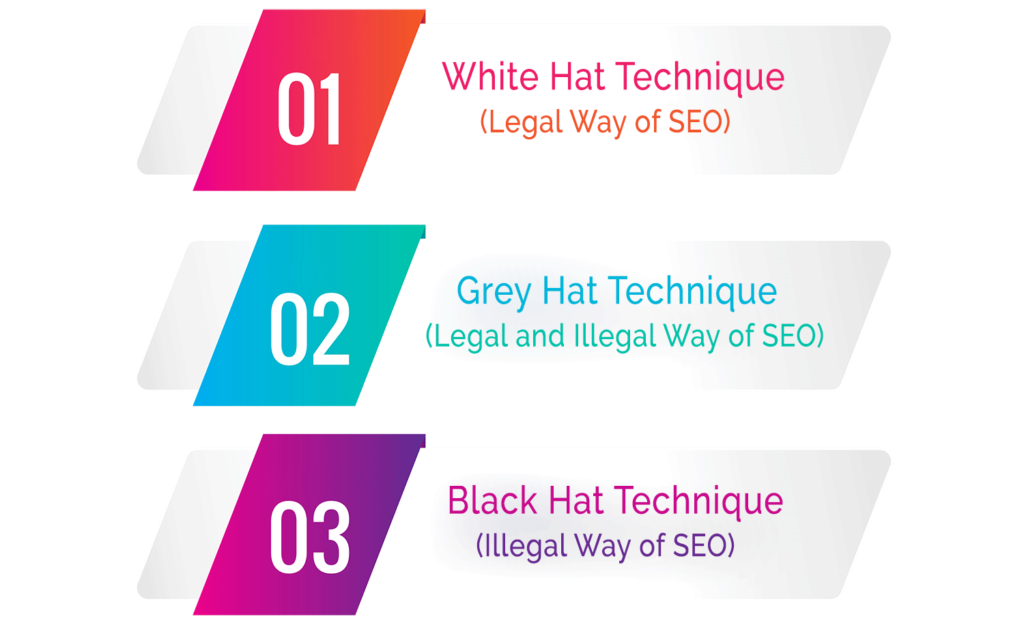 So we have understood about technique and now we are going to learn about method of SEO.
Method:-
There are two type of method one is On page and second is Off page. To rank our website we have to use both method. First we have to understand what is on page method.
On page SEO – When we work on our website internally that is called onpage SEO. It has two section, One is head section and second is body section.
Head Section – In head section we use some tags on our website.
Meta Title Tag – Title tag is the title of a web page. It displayed on a SERP (Search Engine Result Page) as a clickable heading in blue line. Minimum character limit is 70 for title tag.
Meta Description Tag – This is a short description which comes below title tag on SERP page to describe about the website and the minimum limit is 140 character for description.
Meta Keyword Tag – Meta keyword tag are basically HTML code of a web page and it helps search engine to find the website for user. But these keywords are invisible for user and visible to search engines.
OG (Open Graph) Title Tag – When we send our website link on social media page such as facebook, linkedin, twitter etc. then it shows a title for them.
OG Description Tag – It comes below og title tag as a short description to describe about your post/page/website.
Meta Robot Tag – When we need to no follow and no index for a particular page then we use meta robot tag. Using this tag google will not search that particular page/post.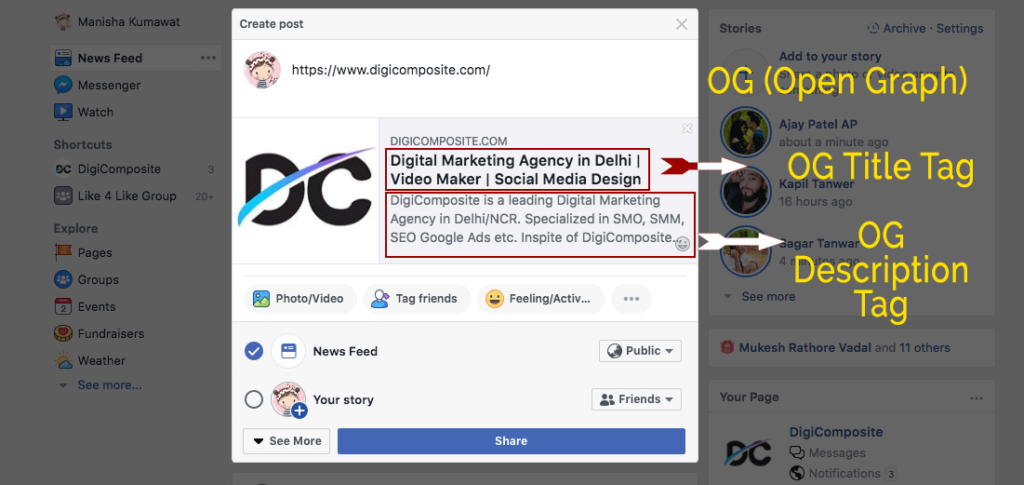 Body Section – Body section is basically post which we write on website page. There are some points which we have to follow for SEO
Write SEO friendly content
Content should be original
Keyword density must be around 2-3%
Do not make grammatical mistake
Do not stuff (increased) keyword
Use heading tags in your content
Use alt text in image
Make your keyword bold and italic
Interlink your articles
Use LSI (Latent Symentic Indexing) keyword in your content
Do not spin content
The length of your keyword must be around 700-800 words
A good blog has a length of more than 1000 words
Use images and videos in your content.
So we have understood about on page SEO, Now we are going to learn Off page SEO.
Off Page SEO- Off page SEO is about to work outside of your website that is called off page SEO, In this technique you have to work in another website to rank your website. Off page SEO is as necessary as On page. Without Off page SEO you can't rank your website. Basically its is a link building process on another website. There are three types of link building
Paid link building – using this method we have to pay that particular website where we want to put our website link so that our website will get high rank.
Organic link building – this is a complete free technique but here we have to make some effort to give our link to another website. This process take some times to approve our link.
Reciprocal link building– Reciprocal is also free technique but this is a give and take technique if you are giving your website link to another then you also have to apply their link on your website.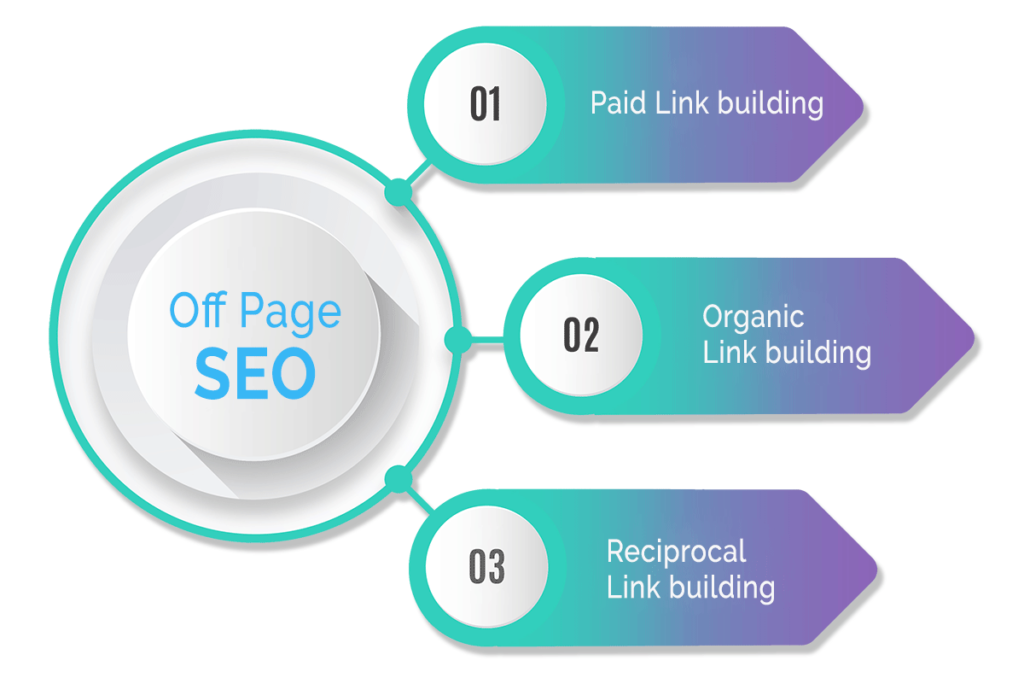 Link creation method of Off page SEO –
There are many ways to create link building method like – Web directory submission, Social bookmarking, Comment tracking, Classified posting, Guest posting, Article submission, Video submission, PDF submission etc.
Now we have understood both process of SEO (On page and Offpage), If we follow above process properly then we can rank our website in two or three month. SEO is a time taking process but more effective.
I hope you enjoy this article and it is useful for you to rank your website. Thanks a lot.