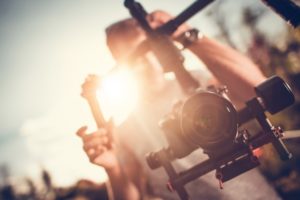 To make a good corporate video There are two thing one is processed and second is tips. The process has three types – Pre-Production (In pre-production we do scripting, scheduling, planning, and arrangement), Production (In production we do shooting, voice-over) and Post-Production (In Post-production we do editing, compositing, sound mixing etc.) but today we talk about tips.
Corporate Video Ideas & Tips –
To make a good corporate video there are so many tips which we have to follow. First of all, we have to decide what kind of thing we should do to make a good corporate video.
Know your audience –  Whenever you are making a video you have to know your audience means any kind of movie you are making, it should be completely relevant to your product/service which your audience can relate to it. You have to know that your audience what will like to see, accordingly you have to maintain your pitch of video so that your audience can understand easily what you want to say through this video. For example, You are making a video of any hospital and you have shown everything about that hospital like facility, infrastructure, technology. It will look good to watch it but in reality, if any patient will watch it he will not be satisfied completely because apart from that you also have to show about what kind of diseases could be treated on that hospital and how they do that. It is very necessary to touch someone's heart by that video. If it touches to someone then definitely it will be a great corporate video.
Make proper Script/Storyboard –  After knowing your audience we have to work on the script. There are so many people who make corporate videos without any script, they think first we can shoot after that can arrange the shots on video editing but it is the completely wrong way to make a corporate video. Before getting video shoot we have to work on the script and it should be in a proper way like from where you are starting, what you are saying, what you are showing and how are you ending, it should be in proper order so that anyone can understand easily what you want to say. If your script will be impressive and attractive then definitely your video will be more impressive and effective.
Use close-ups –  After knowing your audience and preparing your script now we are on shooting/filming. Shooting is a very important role to make any video. Whenever you are doing a shoot then you have to make sure to take good angles and close-ups. Many people forget to take close-ups of every product/services. Close-ups are as important as a wide shot. If wide shot shows your entire thing then close-ups show your details which is very important to show your audience so they can understand about your products/services and close-ups give variety also which video become very rich and impressive.
Hire always Creative Person/Professional –  If you want to make a professional corporate video then you have to choose the creative or professional person who can understand your product/service and accordingly make a shoot, edit, compositing, sound mixing, graphics etc. Basically, we need four technical people to make a corporate video such as Cameraman, Video Editor, Graphic Designer, and Sound Engineer.  Every technical person who is doing their job should be professional/creative to make a corporate video. Generally, many people don't hire creative/professionals because of saving money but this thing effects them after completing the video. So always hire a good person who has good knowledge about making a video.
Shorter and Impressive – Nowadays everyone is busy, no-one wants to see long videos they don't have so much time. So when we make a video especially "The Time" we have to keep in mind. Don't try to show too much on one video because it will increase your time limit and create confusion also. Just give a crisp and clear message in a shorter time. Try to make a short video but should be impressive. The average time of the corporate video is almost 5-10 minutes. Don't make more than 10 minutes of video if possible and If your video is less than 5 minutes but that is impressive and cover all thing about your company then it will be more powerful. So time is very important. Keep in mind when you make a corporate video.
These are the main tips to make a corporate video. In the conclusion, I would like to say our goal of a corporate video should be to connect our audience emotionally and show them a brand/product which could be easy to understand them and they can relate easily.
If you want to know more about the process of Video Making then click here