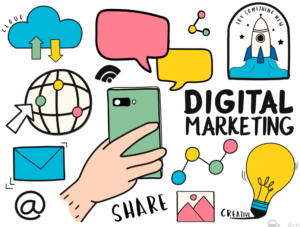 marketing means to connect people, which is using from thousands of years but digital marketing is our present and future way of marketing. If you connect with someone to promote your business from the digital method that is called digital marketing. Digital marketing service appears in the 1990s and 2000s and after that, it has been changed the complete way of marketing. It is the time when marketing meet technology and that time was a revolutionary time in the marketing field. This platform is increasing day by day.
                                         There are so many methods for digital marketing such as – SEO(Search Engine Optimization), SEM (Search Engine Marketing), E-mail Marketing, SMO (Social Media Optimization), SMM (Social Media Marketing), Mobile marketing, etc.
How Digital Marketing Works
we have to use these above methods for marketing and every method has different work like
SEO (Search Engine Optimization) – This is a way to rank your website organically, By this way you have to make some efforts and have to spend some time to make backlinks which will help you to improve your rank. This is a slow process but very effective.
SEM (Search Engine marketing) – This is a paid marketing, you have to pay some amount which your website will rank. It will give you the fast result but it will not be forever when your amount will consume it will automatically takedown.
E-mail Marketing – This is direct marketing means you mail your customer directly of their mail id which they can check your offer on mail and if they are interested can buy from you, this is also a very effective way of marketing.
SMO (Social Media Marketing) – Nowadays SMO is a very famous and nice way of marketing because there are so many social sites which people are using them. You can make a very good design to attract them and You can target your customer by these all sites and can get the benefit to show your product offer/Services.
SMM (Social Media Marketing) – Social Media marketing is the same like SMO but the only difference is SMO is free service but for SMM you have to pay some amount of social media sites which they show your product/services to your target audience.
Mobile Marketing – Mobile marketing is just to send your product offer/service to someone mobile by message or ads. The message you can send to their direct number or by the social messaging site for example – WhatsApp and you can run your ads on games and any app who if anyone is using them can show your ad.
These are some major digital method to market your product. Using these all things you can boost your business.
Why Every Business Need Digital marketing
Today in the globalization era everyone is connected digitally so it is very necessary to connect with the audience via digitally which everyone can show your brand on a digital platform. No matter your business is small or big you have to present yourself on a digital platform. If someone can do digital market by self it's perfect otherwise every business need to hire a digital marketing service provider which can help to boost their business and can achieve their target. It is very necessary to do because in future digital marketing technology will more boost.